Do you want to visit the Appian Way with your family but  don't know where to start? You're on the right track. 
Our strategic position at 60, via Appia Antica -at the beginning of the park- is still reachable by bus n° 118 and n° 218 before entering into the limited traffic area of the Appian Way (where you can admire incredible villas of famous actors, film producers and world-wide known celebrities). If you have a car, you can park for free at 50, via Appia Antica (from Monday to Saturday, from 9 am until 7 pm).
For those who prefer jumping on a bus or a subway, both the 118 and 218 bus lines  stop right in front of our visitor center, our bus stop is called "Appia Antica/Domine Quo Vadis" -from the name of the church nearby connected to the miraculous vision of Jesus.
Public transportation with kids
The lines 218 (from Porta San Giovanni) and 118 (from Circo Massimo or Colosseo) run every day, the average frequency is 20 minutes and you can easily plan your trip from your hotel to us taping the starting point from your location to ours through Google Maps or  downloading the App Moovit, even selecting the precise day and time. Regarding tickets: kids until 10 years old don't pay for public transportation. For the single run you can get the classic ticket of € 1,50 valid for 100 minutes starting from the validation, otherwise get it by your phone or smartwatch. We're installing Tap&Go systems on all buses, use your scan every time you step on.
With your kids on the Appian Way
The park of the Appian Way is one of the candidates as a UNESCO site in 2023, in all its 4580 hectares of protected area you won't be surprised by its abundance of naturalistic and archaeological heritage, even though some tracks are more suited for families than others.
After getting off the bus or car, I suggest that you come over to our office to get a free map of the Caffarella Valley and ask for a few tips -whether if you want to walk or bike. The Caffarella Valley is a green area -totally car free– tailored for families and kids where you can spot rabbits zig zagging the valleys before disappearing behind the bushes. For sure, you won't miss the small farm -5 minutes walking from us- located at the beginning of the Caffarella Valley with goats, lamas, horses and other kinds of animals that you can even touch from the outside. Do you have two kids with you? No problem, we have an e-MTB with the trailer for two, supporting up to 35 kg. We also have a baby stroller for rent  if you prefer walking.
Appian Way by bike
For the youngsters, we provide front child seats (up to 15 kg) and back child seats (20 kg). My advice? Get an e-mtb with a rear child seat: not only for the assistance you get  while pedaling, but the bike is also outfitted with shock absorbers.  If the bumpy ride made you hungry, take the opportunity to savor the  produce of a local farm with home-made cheese at Casale della Vaccareccia to buy a wheel of cheese (to make sure they are open, here's their phone 348 918 6964).  Rental bike here: www.ecobikerome.it
Food & drink in the Valley
The Caffarella Valley can be discovered either by walk or ride, it's accessible to everyone  and is mostly flat with some hills to climb. If you're wondering about the time, you can bike it in 15 minutes or you can spend a few hours walking as well.
Get some sandwiches with you, lay your blanket  on the ground and enjoy the panorama. One of the nicest corners for kids is the birdwatching point and the eastern area (near  the Ninfeo di Egeria and the Sacred woods).Remember , there are no restaurants nor services here!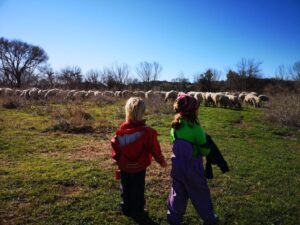 Need some water? Well, at the north side of the Caffarella Valley, you'll find one. Locals usually get (almost) free water from the natural spring "Fonte Egeria'' at 111, via dell'Almone: sparkling or still, you can fill in your bottle with € 0,08 cent and enjoy a super regenerating water coming down from the Albani hills. The legend says that Numa Pompilio, the second king of Rome, used to come over there to see the nymph Egeria -goddess of prosperity and natural spring– and over time his secret lover became a valid ally as a counselor in ruling Rome. After his death, the goddess suffered and cried so much that the goddess Diana, taking piety on her, transformed her into a spring.
Info: + 39 06 5135316 – infopointappia@gmail.com – www.ecobikeroma.it